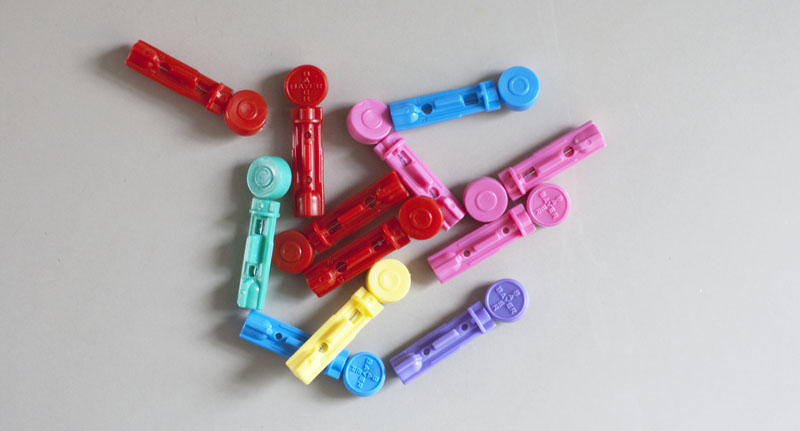 I went to an appointment this morning. And then it snowed really hard. I scraped the heavy, wet snow off my car and came home more bionic than I was a few hours ago.
Bionic? Does anybody use that term anymore?
This girl, the one who is s-l-o-w to embrace new tech is now wearing new tech. I'm plugged in. The nurse educator I met this morning wasn't familiar with The Matrix, so I had to explain that it felt kind of sci-fi, almost like I was getting a bug implanted in me. She is CLEARLY not wed to Jeremy Tredway. (I not only know The Matrix, I've watched it more times than I can count and can quote it if the mood is right.)
I already wear an insulin pump. Every few days I insert a needle into my abdomen, remove it and in its place is a small catheter that delivers insulin to be absorbed through the fat layer of my body. The insulin pump is an incredible piece of equipment and is worth the irritation of wearing a pager-sized device on my person at all times. I remove the pump itself for bathing or swimming, but other than that, like Ruth and Naomi, wherever I go, the pump goes too.
Today we added another piece of equipment to my body and from what I understand this new device will also make my life more beautiful. Once I figure out how to really use it, that is. I got all squared away with a CGM—a continuous glucose monitor. It is a lot smaller than the pump and is inserted in a similar way, with a needle that is then removed almost right away. This time the teeny-wheeny super duper small part left in my skin is a glucose sensor. It reaches what's called interstitial fluid underneath the skin layer and reads a glucose. From my fingertips I draw blood glucoses (BGs), but from the CGM it's called a sensor glucose (SG). The deal is that I wear this small sensor and transmitter all the time and then I don't have to prick my fingertips as often. The real beauty of the situation is that the CGM will allow me to see how my blood sugars are trending. Going up, going down, going down fast? It can tell me all that. It will also beep incessantly to, say, wake me up at night if my glucoses drop dangerously low.
A few weeks ago I woke up around 2:00am to sirens in my neighborhood. I am strongly attuned to siren activity after living in a fairly transitional 'hood for over 10 years, and as any good neighborhood watch person would do, I went to the window to see what was going on. A few days later I learned that a neighbor had a really bad low blood sugar reaction complete with seizures and the emergency personnel struggled to wake him. He went to the hospital. Having this occur so close to home was a solid reminder that good control for someone with diabetes means walking a fine line of normal glucoses versus dangerous ones. Thus all the helpful tech I'm talking about. The goal is to keep folks with diabetes as healthy as they can be.
I don't really know what I'm doing with the CGM. I know that I'm waiting until noon to calibrate it and that I'll do several more calibrations later in the day. I have a few handy guidebooks that will help remind me how things work and what goes where and when to do what. There's an 800 number that's available 24/7 and the nurse wants to check in with me later in the day. Other than that, I feel confused and trust that various pieces of equipment will beep at me soon and then I'll be digging for those guidebooks once more.
Those who know me and love me well know that I would completely ignore diabetes if I could. They don't like this about me and everyone wants to help me care for myself better. But the truth is that *I* have to want it. All the wanting in the world can't make me be responsible for diabetes if I don't want to be responsible.
Diabetes is full of numbers and graphs and charts and precision and pokey things like needles and lancets. Do you see all the graphs and stats I post on The Prairie Box? No? And there you see the bend of my personality.
But this year I will hit 20 years of living with diabetes. I want to stick around for a long time. I want to be in good health as long as I possibly can be. I want to be ready when a surgeon comes at me with stem cells that are magically turning into a working pancreas, though I can't really talk about that much because it seems like such a far off dream. So for now, for today, I want to engage the absolute best piece of tech—the one that makes more of an impact than any insulin pump or CGM on the market—and that is my brain. Nothing money can buy is more important or helpful to diabetes care than the strength and will God has given me to make good choices.
Feel free to ask me about diabetes. I'll share what I know! Do not feel free to ask me if I can eat that piece of cake or not. It's none of your business. And I say that in the nicest way possible. ;)