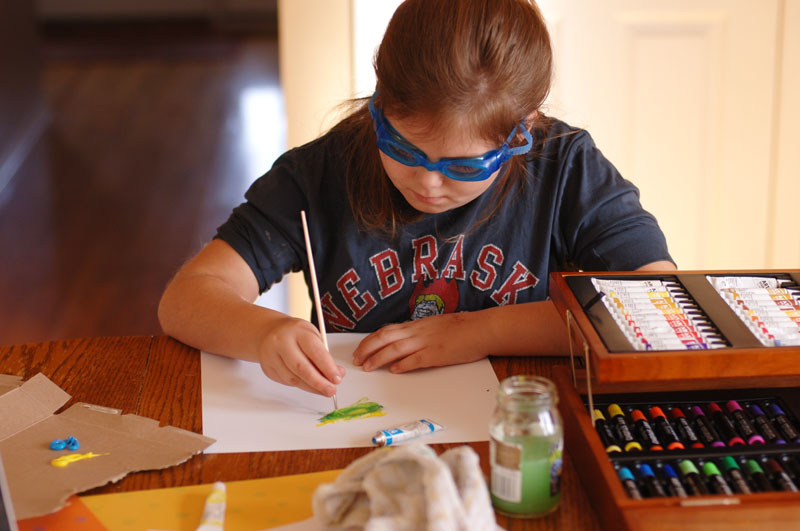 "Achoo!" Livia sneezes.
"Bless you," says the mom behind us on the walk to school.
"Oh, that was a fake one," I counter. "But thank you anyway!"
Liv proceeds to explain, loudly, that her little brother, who is holding her hand, sneezed. In our world—the material one, that is—her left hand holds mine and her right hand dangles in the cold morning air. The mom and son part ways with us, no doubt questioning our sanity.
I wait on the sidewalk until Livia has passed her principal. This is my safety check—passing him surely means she won't accidentally wander the wrong way and end up at a grocery store instead of her second grade classroom. Even after she's passed the principal, she slows down while the other kids, more goal-oriented perhaps, are racing to their rooms.
Liv has a rich inner world one might say.
While the majority of children around her are pulling off coats and backpacks, Livia is meandering behind them, deep in imagination. Sometimes I wonder what it's like to be in her mind. What is she thinking about? Are her pretend thoughts like the claymation or video bits done on Community? But way more innocent?
The snowman deal originated with me. Because I know my daughter and I know that while she may not be motivated to walk fast in order to get to people school, I do know that she will walk fast if we pretend we are snowmen on our way to snow school. Snow Mama and Snow Girl, to be exact. Apparently there was a Snow Brother in there I didn't know about.
Pretending to be a Snow Mom for a four minute walk to school is easy stuff. I love that my kid is incredibly creative and hilarious and fun-loving. Sometimes I wonder when she's going to mature, when she's going to be more concerned with what her parents and teachers and classmates expect from her. But honestly, I don't want her to grow up too quickly. Since when does an eight-year-old need to be overly concerned about pleasing others? There are a lot of issues in this world that Livia is not yet prepared for. Today I'm glad she's eight and full of ideas and images and goodness knows what else exists in her imagination. I pray she can hang on to this gift of hers until adulthood in some sort of way. The world, the "real" one, will be a better place with her creative spirit in it.