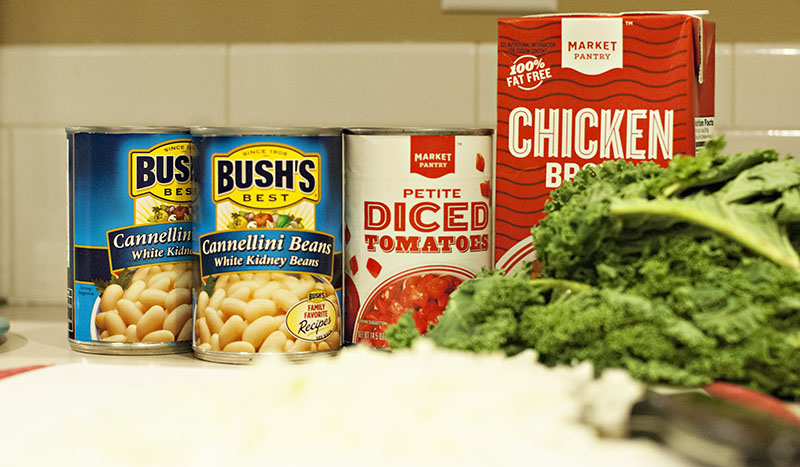 Hooray hooray hooray! I finished my seminary semester yesterday morning with an exam (my cohorts were a-mazing and encouraging and we did a great job collectively!) and after having a celebratory lunch and a celebratory nap, I braved Super Target at dinnertime to both replenish our pantry and buy ingredients for dinner. We needed to eat something besides fast food, and my body felt sure it required a vegetable. And since I, the resident chef, loves soups, this recipe was a winner. I picked out Kale, Sausage & White Bean Stew from Jenny Rosenstrach's Dinner: A Love Story and that was that. Livia did not exactly love it, but she ate it. She said the french bread tasted bitter—which honestly made me question my own taste buds and, man, am I losing my tasting abilities now that I'm 40??–so I dolloped some strawberry jam on her already-buttered slices and called it good. Feeding children is a game, right? I wanted to "win" by not having her ask for a snack before bed. It's bean soup and bread or NOTHING, my friend. It worked, all was well, I had a mom win, amen.
One last thing… if you're curious about the word "koselig" read my first blog entry in this series. Really, this series began as a justification for my Le Creuset purchase. It's all worked out well, I'll admit.
Kale, Sausage & White Bean Stew
1 onion, chopped
3 T olive oil
2 garlic cloves, minced
S&P, to taste
1/2 t red pepper flakes
4-6 links (about 1.25lb) Italian chicken or pork sausage, casings removed
1-32oz chicken broth
1-14oz can diced tomatoes
2-14oz cans cannellini beans, rinsed & drained
1 bunch kale, washed, stems removed, chopped into small pieces
Drizzle of red wine vinegar (about 2 T)
Freshly grated parmesan cheese
Saute onion in a Dutch oven over med-high heat until softened, about 3 minutes. Add garlic, s&p, pepper flakes and cook, stirring 1 minute.
Add in sausage and brown until cooked through, 4-5 minutes. Add the broth, tomatoes and beans. Bring to a boil. Add kale, simmer until wilted, about 3 minutes. Stir in a drizzle of red wine vinegar and serve stew with parmesan cheese and crusty bread.
**I substituted 1lb milk pork sausage for the links, and—gasp!—didn't have any garlic in my pantry but made do with garlic powder.