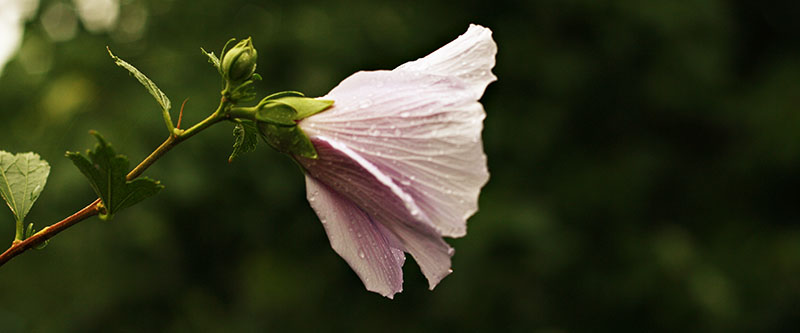 I stepped outside to my back deck this morning to soak up some sunshine and warm up from the air conditioning inside. It's my private little oasis, a bit of a secret garden now as our Rose of Sharon bushes have lost their minds and grown into gargantuan shapes. They are blooming—fabulous purple trumpets open up into pink blooms that feed everything from bumblebees to hummingbirds to hummingbird moths. The roses—hibiscus really—cover one corner and a healthy green maple towers over me on the other side. In between are succulents and cherry tomatoes, sedum and a butterfly bush and a few pots of herbs. And in between those items are WEBS. It is spider season, my friends, and I was only slightly ashamed of letting my small dog take down the first few for me with his clueless waltz onto the deck. I left the webs alone that were situated in corners away from my seat in the sun. From my viewpoint I watched them in the spiders in their homes, now a bit more wobbly in the morning, and hoped they'd catch all manner of little critters. All around me buzzed this incredible world. My deck. My sweet oasis in the sun. Though I've just returned from a lodge with a fabulous long deck overlooking apple trees and a deeply shaded wood, I have this privilege of coming home to a vibrant scene all my own.
There's not a thing around us that wasn't made, fashioned, orchestrated by our Creator God. From the spider's ability to build intricate webs to the unfolding of the tiny flowers that face the sun on my front steps, creation has been designed by God. He put all the scientific forces into play, and when I open my eyes and really look, I see how fabulous this world is. What's even more stunning to me is that God made human beings and that he considers them more important than these little bits of flora and fauna I've been enjoying this morning.
When I look at your heavens, the work of your fingers,
the moon and the starts, which you have set in place,
what is man that you are mindful of him,
and the son of man that you care for him?
You have made them a little lower than the angels
and crowned them with glory and honor.
You made them rulers over the works of your hands;
you put everything under their feet:
all flocks and herds, and the animals of the wild,
the birds in the sky, and the fish in the sea,
all that swim the paths of the seas. 
Lord, our Lord,
how majestic is your name in all the earth!
– from Psalm 8
A group of teens from church just returned from a trip to Guatemala. And though I'm sure they were surrounded by impressive scenery on their travels, they left the comforts of home for people, for the LOVE of people. God honors this work and wants us pouring out our lives for people. If he esteemed us so much, crowning us with honor and glory simply because we're made in His image, then surely we need to mimic that. We need to care. On Sunday I was so impressed by the hearts of the girls who shared their thoughts about the Guatemala trip. Sure, this was their mountaintop experience (something many of us growing up in the church experienced after going to youth camps) but it was a significant one because God taught them something through it all. He graciously showed him how much He loves his people and that it's worth giving up your money, your time, your security to care for others.
Just as there are women, men, and children in Guatemala who reflect the character of God, they are also here in Lincoln, Nebraska. They are in your town. As wealthy as we are here in America, we cannot be blinded to the hungry, the hurting, the lonely, the sick. If you're a Christian, then you are called to love your brothers and sisters wherever God has placed you. Never be lulled into thinking that everyone around you is fine, that everyone in your city is fed, clothed, and nourished. It's our job to care for others. Let's continue to see people as the glorious creatures they are—creatures made in the image of God and esteemed by Him. Continue working for their good and by doing so you serve God.